Pelatihan Pembuatan Tutorial Interaktif untuk Guru-Guru Fisika Menggunakan Media Interactive Open Sankore
Keywords:
Interactive Tutorials, Opensancore, Training
Abstract
Physics is a subject that is less attractive to students because it has a high level of difficulty in understanding, so to develop students' interest and sympathy for physics, interesting and not monotonous learning media are needed. However, the reality in the field is that there are still very few teachers who have the skills and abilities to develop interesting learning media such as interactive learning media, so training activities need to be held. The purpose of this activity, among others, is to improve the skills of physics teachers in making interactive physics learning tutorial media so that later they can improve students' understanding and to improve the ability of teachers to use information technology, especially using the Open Sankore program in helping physics learning, especially for SMAN 1 Kerkap students. so that it can motivate physics teachers in better learning. The method used in this trial is training with a participatory approach. The results of this service prove that training in making interactive tutorials with open-sancore media has a positive and significant influence on the skills and abilities of teachers in developing teaching materials. So it can be concluded that community service activities regarding training in making interactive media using open-sankore media at SMAN 1 Kerkap have been able to provide insight to physics teachers about the use of open-sankore programs in making interactive tutorials and have also provided motivation to physics teachers. to further improve their ability to make teaching materials more interesting and innovative
Downloads
Download data is not yet available.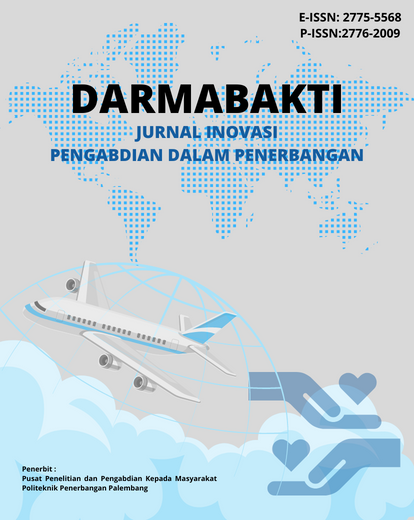 Downloads
How to Cite
Meizul, C., & Risdianto, E. (2022). Pelatihan Pembuatan Tutorial Interaktif untuk Guru-Guru Fisika Menggunakan Media Interactive Open Sankore . Darmabakti: Jurnal Inovasi Pengabdian Dalam Penerbangan, 2(2), 78-85. https://doi.org/10.52989/darmabakti.v2i2.53
License
Copyright (c) 2022 Connie Meizul, Eko Risdianto
This work is licensed under a Creative Commons Attribution-NonCommercial-ShareAlike 4.0 International License.