Implementasi Safety Management System Di Bandar Udara Selama Masa Pandemi Covid-19
Keywords:
Bandar Udara, Covid 19, safety management system, Keselamatan
Abstract
Covid- 19 telah mempengaruhi setiap wiIayah penerbangan, sehingga berdampak pada rute internasionaI maupun domestik sehingga diperlukan pula upaya ekstra untuk meminimalisir risiko Covid- 19 di bandar udara (bandara). Salah satunya dilakukan melalui safety management system (SMS) yang berarti suatu pendekatan management system harus tuntas sampai statement promosi keseIamatan dilakukan, terutama pada masa pandemi Covid- 19. SMS merupakan serangkaian upaya yang terencana dan sistematis dalam rangka melakukan pemantauan dan pembenahan segala aspek yang mempengaruhi faktor keselamatan penerbangan. Tujuan penelitian ini untuk mengetahui implementasi SMS di bandar udara pada masa pandemi Covid- 19. Metode yang digunakan untuk penulisan ini yaitu metode deskriptif kualitatif berdasarkan informasi dari studi kepustakaan dari berbagai sumber. Hasil didapatkan dengan upaya untuk menggambarkan realitas objektif atau materi yang ditinjau saat ini mempertimbangkan materi yang berbentuk tertulis baik itu buku, jurnal atau artikel, dan situs web institusi yang berkenaan. Faktor yang memungkinkan menjadi penghambat implementasi Safety Management di Bandara utama adalah jumlah personil tidak cukup karena jam operasional Bandara dibatasi dampak kebijakan Pembatasan Sosial Berskala Besar (PSBB) dan sosialisasi keselamatan tentang SMS secara internal maupun eksternaI belum dilakukan secara konsisten, efisiensi biaya dan operasi pemeliharaan fasilitas banda dilakukan akibat pembatasan jam operasi. Pemeliharaan Fasilitas yang bersifat urgent dan darurat tetap dilakukan dan pelanggaran protokol kesehatan dilakukan oIeh petugas dan penumpang.
Downloads
Download data is not yet available.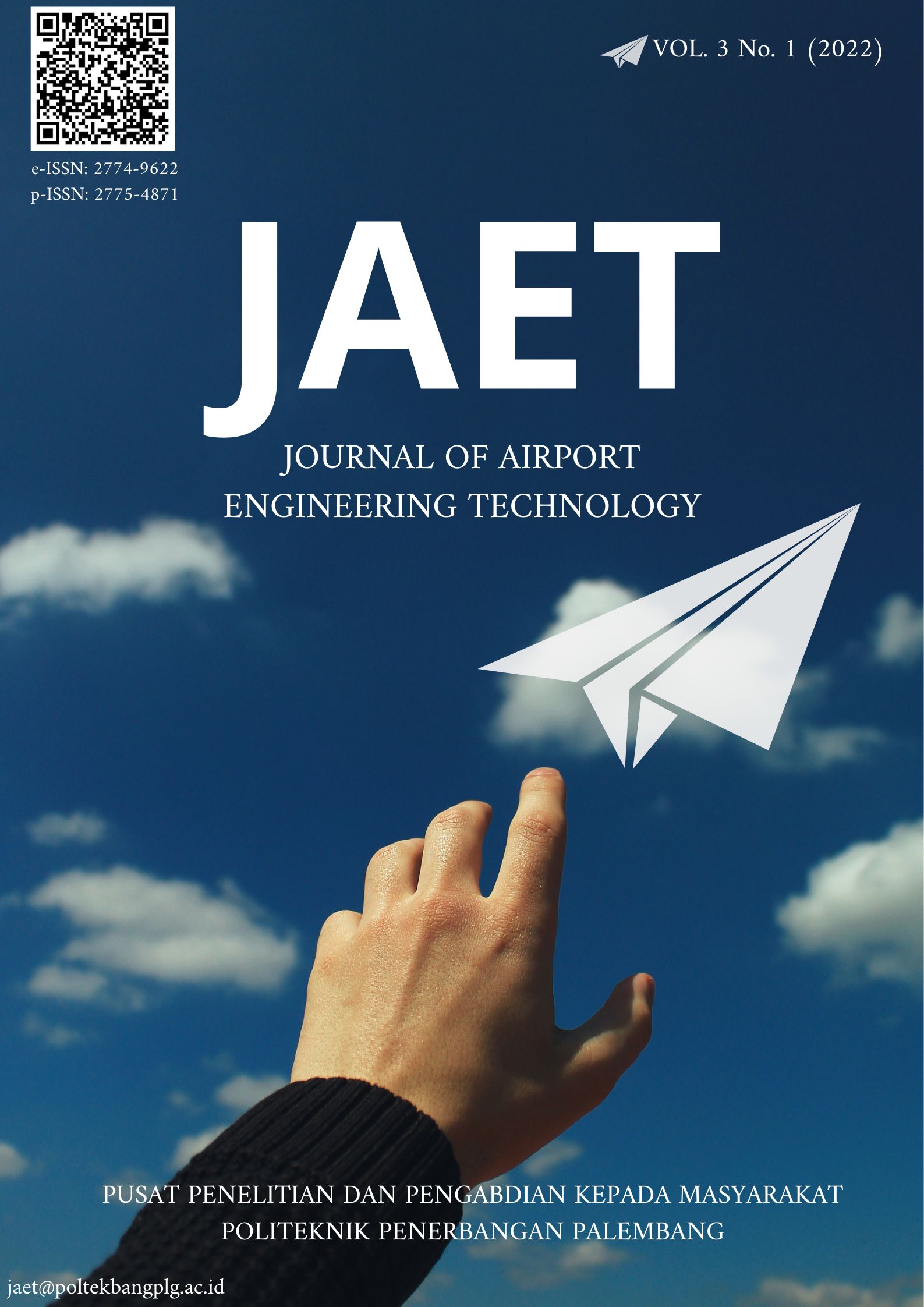 Downloads
How to Cite
Fazal, M. R. (2022). Implementasi Safety Management System Di Bandar Udara Selama Masa Pandemi Covid-19. Journal of Airport Engineering Technology (JAET), 3(1), 13-19. https://doi.org/10.52989/jaet.v3i1.70
License
Copyright (c) 2022 Muhammad Rafli Fazal
This work is licensed under a Creative Commons Attribution-NonCommercial 4.0 International License.