Rancangan Monitoring Peralatan Transmitter Very High Frequency PAE T6T Berbasis Web Server
Keywords:
Mikrokontroler, Transmitter VHF, Web Server
Abstract
The design made has the aim of simplifying the tasks of all technicians and field coordinators in monitoring the operation of VHF Transmitter conditions, so that they canbe controlled anywhere. The background of this research is based on a case that has happened at Perum LPPNPI Kulonprogo Branch, where the VHF Transmitter Building is far from the technician's standby room. When a problem occurs, the technician cannot immediately find out. Therefore, the authors are interested in conducting research with the type of Research and Development (R & D) that uses qualitative research methods. This study resulted in the conclusion that with the main control of the microcontrollerand using a sensor to extract the voltage value from the alarm LED voltage line, so that this design can work and function properly according to the author's expectations.
Downloads
Download data is not yet available.
References
Undang-Undang Nomor 1 Tahun 2009 Tentang Penerbangan.
Suryan, V. (2017, January). Econometric forecasting models for air traffic passenger of indonesia. In Journal of the Civil Engineering Forum Vol (Vol. 3, No. 1).
Nugraha, W. (2019). Safety Documentation: A Communication Approach For Safety Management System In Aerodrome Operator. International Journal of Scientific & Technology Research, 8(11), 1705-1711.
Sugiyono. (2011). Metode Penelitian Kuantitatif, Kualitatif dan R&D. Bandung: Alfabeta.
PAE. (2014). Park Air T6T Mk6 50 W VHF Transmitter User Documentation. England: Park Air System.
Hirawan, R.B. (2018). Rancangan Simulasi Alat Pengendali Jarak Jauh Menggunakan Arduino Uno R3 dan GPRS Shield SIM900 untuk Radio VHF Tower Set Merk Park Air System type T6T Guna Mempermudah Kinerja Teknisi di Bandar Udara Halim Perdanakusuma. Tangerang.
Kusnandar, Wahyu. (2015). Perancangan Monitoring System Peralatan Pemancar VHF Selex Menggunakan Arduino Uno di Perum LPPNPI Cabang JATSC Bandara Soekarno-Hatta. Jakarta.
Putra, S. W. (2019). Analisis Performance Peralatan Transmitter Very High Frequency Extended Range (Vhf-Er) Merk Pae Series 2750 Di Bandar Udara Sepinggan Balikpapan. In Prosiding SNITP (Seminar Nasional Inovasi Teknologi Penerbangan) (Vol. 3, No. 1).
Rusmadi, Dedy. (2007). Mengenal Elektronika. Bandung: CV. Pionir Jaya.
Edy, Sarwo. (1991). Pendidikan Keterampilan Teknik Elektronika. Semarang: Aneka Ilmu.
Amalia, D., IGAAMOka, I., Septiani, V., & Fazal, M. R. (2020). Designing of Mikrokontroler E-Learning Course: Using Arduino and TinkerCad. Journal of Airport Engineering Technology (JAET), 1(1), 8-14.
Blocher, Richard. (2003). Dasar Elektronika. Bandung: Graha Ilmu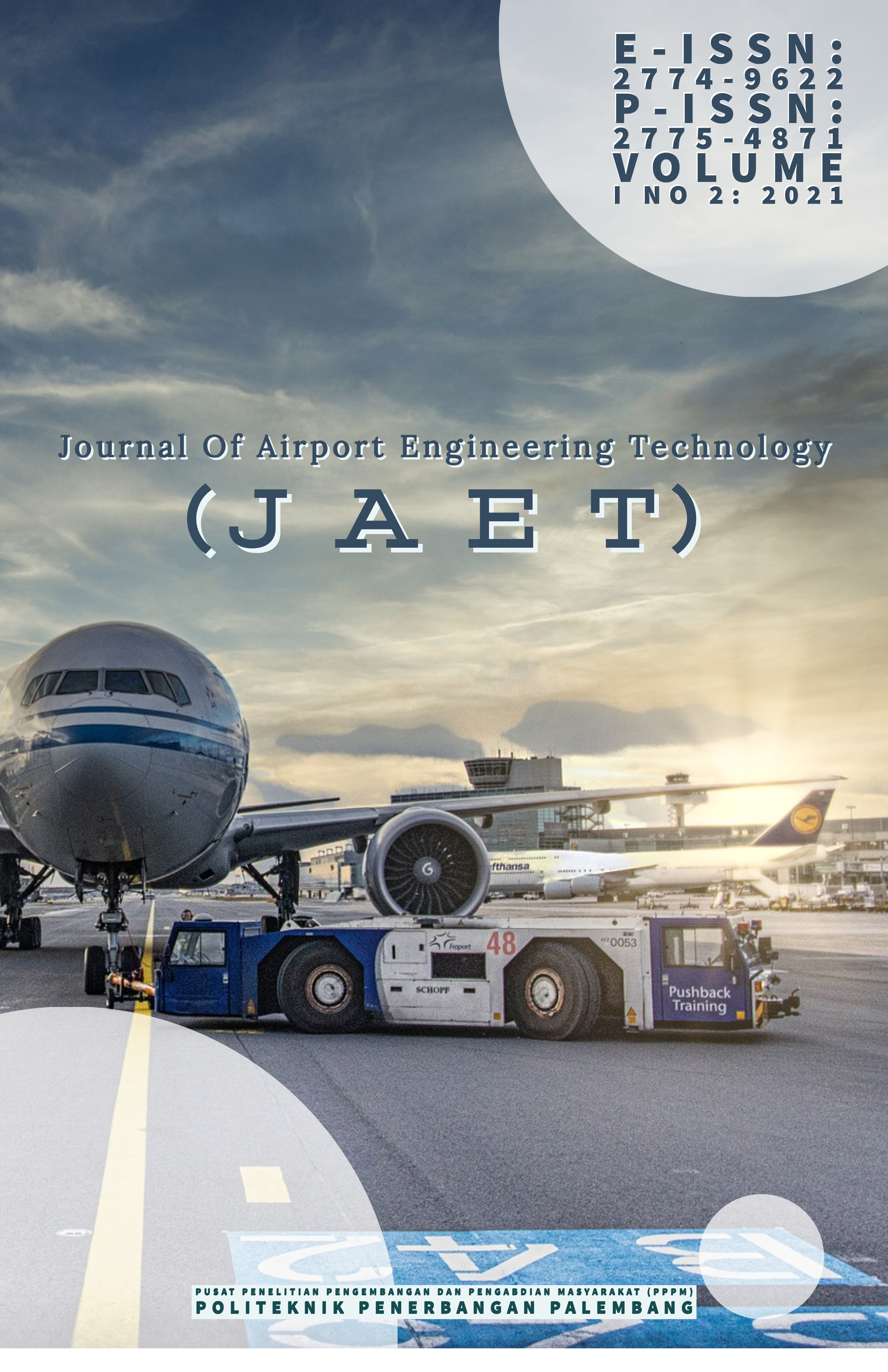 Downloads
How to Cite
Cahyani, T., Hendra, O., Sadiatmi, R. ., Nugraha, W., & Habillah, M. F. . (2021). Rancangan Monitoring Peralatan Transmitter Very High Frequency PAE T6T Berbasis Web Server. Journal of Airport Engineering Technology (JAET), 1(2), 48-53. https://doi.org/10.52989/jaet.v1i2.14
License
Copyright (c) 2021 Wildan Nugraha, Oke Hendra, Direstu Amalia
This work is licensed under a Creative Commons Attribution-NonCommercial 4.0 International License.