Perhitungan Hidrograf Banjir dengan Metode Hidrograf Satuan Sintesis SCS (Soil Conservation Service) di Kota Palembang
Keywords:
Hidrograf Satuan Sintetik (HSS), SCS, Debit, Banjir
Abstract
Peningkatan jumlah lahan kritis di Indonesia saat ini makin meningkat, tak terkecuali pada daerah Kota Palembang. Peningkatan lahan kritis mengakibatkan berkurangnya volume limpasan air. Perubahan penggunaan lahan di Daerah Aliran Sungai adalah salah satu penyebab meningkatnya lahan kritis. Hal inilah yang memicu timbulnya berbagai permasalahan seperti banjir dan kekeringan. Tujuan dari penelitian ini yaitu mengetahui besaran debit dengan menggunakan metode Hidrograf Satuan Sintetik (HSS) SCS. Perhitungan dengan metode HSS SCS ini diharapkan nantinya dapat memberikan informasi mengenai jumlah debit tertinggi sehingga dapat dicari solusi tepat untuk mengurangi permasalah banjir di Kota Palembang. Hasil penelitian menujukkan bahwa Palembang memiliki curah hujan yang cukup tinggi. Curah hujan yang tinggi ini harus diantisipasi dengan sarana dan prasarana yang baik agar Kota Palembang terhindar dari banjir. Pembangunan system drainase, perawatan system drainase yang telah ada, dan jumlah sumur resapan harus lebih dimaksimalkan. Kenyataan menunjukkan bahwa saat ini fungsi drainase di Kota Palembang sangat tidak optimal, banyak drainase yang tidak berfungsi dengan baik, banyak yang tertimbun, bahkan banyak daerah yang tidak memiliki system drainase sama sekali.
Downloads
Download data is not yet available.
References
Chow, V.T., Maidment, D.R., and Mays, L.W., (1988). Applied Hydrologi. New York: McGraw-Hill Book Company.
Harto, Sri. (2009). Hidrologi: Teori, Masalah, Penyelesaian. Yogyakarta: Nafri Offset.
Marlina, A., & Andayani, R. (2018). Model Hidrologi Untuk Prediksi Banjir Kota Palembang. Prosiding Seminar Nasional Hari Air Dunia, e-ISSN 2621-7449.
Putri, R. S. W., & Ayu, D. S. (2018). Analisis Volume Limpasan Dengan Metode Green-AMPT. Jurnal Nasional Teknologi Terapan, Vol 2. No. 2, 165-183.
Sari, A. N., Sujono, J., & Jayadi, R. (2014). Kajian Beberapa Metode Perhitungan Hujan Efektif dan Pengaruhnya Terhadap Hidrograf Satuan. Tesis: Universitas Gadjah Mada.
Triatmodjo., B., (2010). Hidrologi Terapan. Yogyakarta: Beta Offset.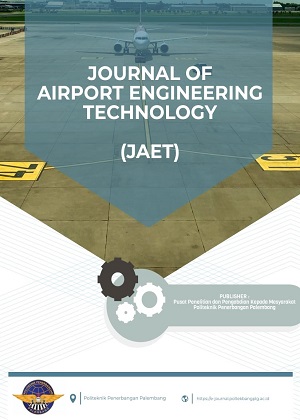 Downloads
How to Cite
Sari, A. N. S., Pranoto, R. ., & Suryan, V. (2020). Perhitungan Hidrograf Banjir dengan Metode Hidrograf Satuan Sintesis SCS (Soil Conservation Service) di Kota Palembang. Journal of Airport Engineering Technology (JAET), 1(1), 1-7. https://doi.org/10.52989/jaet.v1i1.1
License
Copyright (c) 2020 Anggi Nidya Sari Sari, Radius Pranoto, Viktor Suryan
This work is licensed under a Creative Commons Attribution-NonCommercial 4.0 International License.