Pengembangan Media Pembelajaran Portable Windsock Light dengan Tenaga Surya
Keywords:
Penunjuk arah angin, media pembelajaran, bandar udara
Abstract
Petunjuk arah angin di bandar udara digunakan oleh penerbang untuk menentukan arah  pendaratan maupun lepas landas pesawat udara. Penunjuk arah angin sebagai alat bantu navigasi dibandar udara perannya sangat penting bagi keselamatan penerbangan. Untuk mengingkatkan kompetensi sumber daya manusia bidang penerbangan khususnya mengenai pemeliharaan peralatan penunjuk arah angin ini, maka perlu di buat media pembelajaran bagi taruna Politeknik Penerbangan Palembang. Maka penulis merancang media pembelajaran windsock light dengan tenaga surya untuk membantu para taruna dalam memahami cara kerja alat tersebut. Peralatan tersebut menggunakan listrik tenaga surya sebagai energi alternatif yang ramah lingkungan. Penelitian ini dilakukan di politeknik Penerbangan Palembang dengan metode research and development. Objek penelitian adalah para taruna program studi rekayasa bandar udara. Dari hasil penelitian menunjukkan para taruna sangat antusias dalam mempelajari alat tersebut, dan menambah pengetahuan serta kompetensi dalam bidang peralatan penunjuk arah angin di bandar udara. Dengan bertambahnya kompetensi taruna, diharapkan akan mendukung keselamatan penerbangan di Indonesia.
Downloads
Download data is not yet available.
References
Amalia, D., Hadiansyah, R., & Septiani, V. (2022). Smart Parking IoT Based: Design and Prototype. JMKSP (Jurnal Manajemen, Kepemimpinan, Dan Supervisi Pendidikan), 7(1), 67–81. https://doi.org/10.31851/JMKSP.V7I1.6677
Abidin. (2015). Pembelajaran Multiliterasi. Bandung: Refika Aditama.
Fatonah, F., Wildan, M., Purnomo, S., & Soleh, A. M. (2020). Design Of High Gain Low Noise Amplifier At Base Station Receiver VOR Equipment For Ground Check Monitoring As Learning Media In Civil Aviation Academy. International Journal of Progressive Sciences and Technologies, 397-402.
Soleh, A. M. (2022). DAMPAK PANDEMI COVID-19 DALAM DUNIA PENERBANGAN. Yogyakarta: Lebah Buku Group.
Soleh, A. M., Oka, I. G., & Kristiawan, M. (2021). Kondisi Literasi Media Digital dalam Aktifitas Kerja Pegawai Politeknik Penerbangan Palembang. Ilmu Pendidikan: Jurnal Kajian Teori dan Praktik Kependidikan, 51-62.
Soleh, A. M., Tobari, & Kesumawati, N. (2019). Development Of The Practical Manual As A Learning Media For Simulator Aircraft Rescue And. INTERNATIONAL JOURNAL OF SCIENTIFIC & TECHNOLOGY RESEARCH, 523-526.
Sugiyono. (2017). Metode Penelitian Pendidikan Pendekatan Kuantitatif, kualitatif dan R&D. Bandung: Alfabeta.
Supriyadi, Y. (2012). Keselamatan Penerbangan, Teori dan Problematika. Tangerang: Telaga Ilmu Indonesia.
Tanjung, E. (2022, Januari 20). Berkomitmen Transisi ke Energi Ramah Lingkungan, Jokowi: Energi Hijau Butuh Biaya Sangat Besar. Retrieved Juni 21, 2022, from suara.com: https://www.suara.com/bisnis/2022/01/20/182448/berkomitmen-transisi-ke-energi-ramah-lingkungan-jokowi-energi-hijau-butuh-biaya-sangat-besar
Wicaksono, M. A., & Sukma, D. Y. (2017). Analisa Prakiraan Kebutuhan Energi Listrik. JOM FTeknik, 1-11.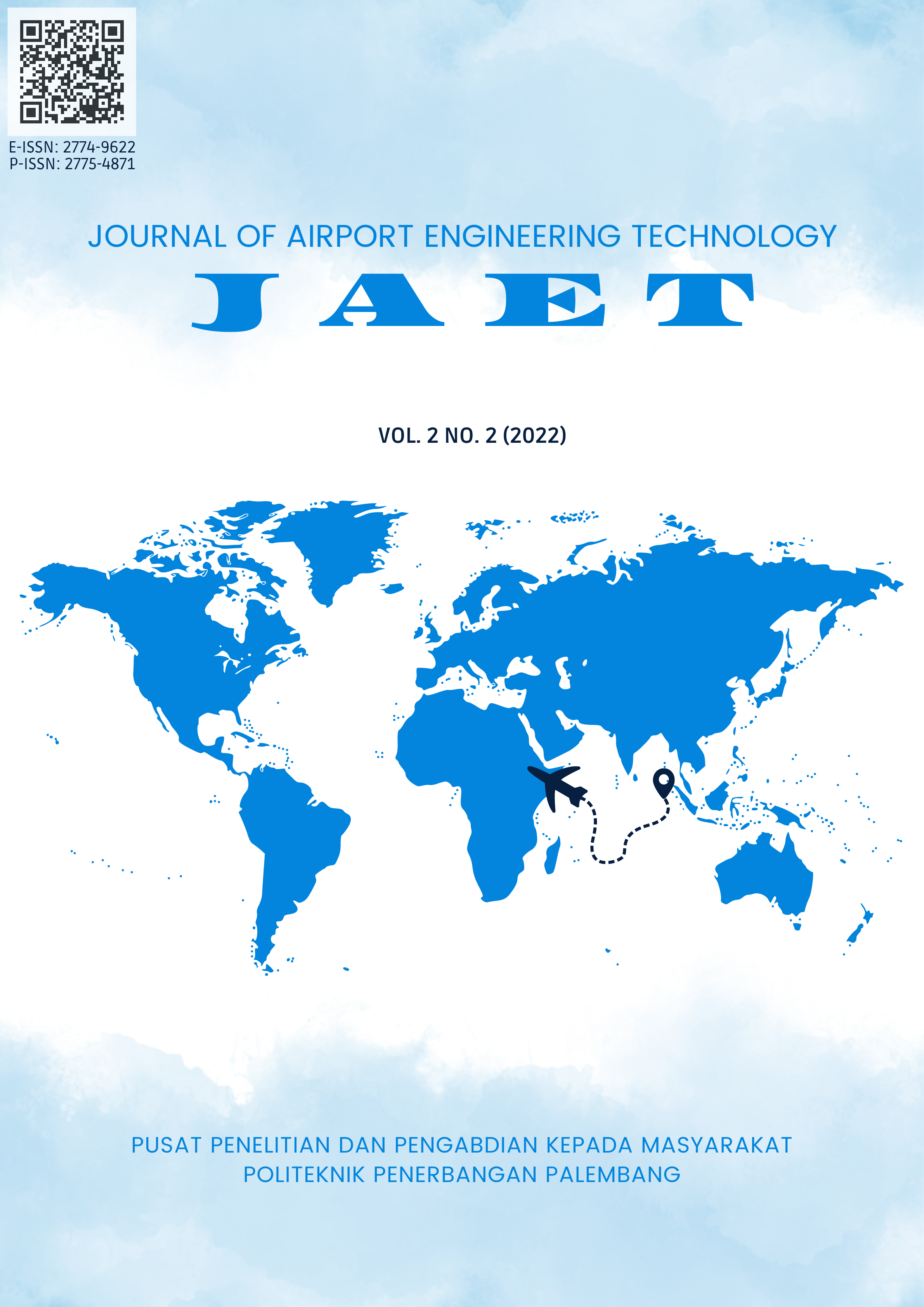 Downloads
How to Cite
Soleh, A. M., Setiyo, S., Yoga, M. A. P., & Belvero, M. D. (2022). Pengembangan Media Pembelajaran Portable Windsock Light dengan Tenaga Surya. Journal of Airport Engineering Technology (JAET), 2(2), 60-66. https://doi.org/10.52989/jaet.v2i2.55
License
Copyright (c) 2022 Asep Muhammad Soleh, Setiyo Setiyo, Muhammad Aditya Prana Yoga, Muhammad Daru Belvero
This work is licensed under a Creative Commons Attribution-NonCommercial 4.0 International License.