PENGENALAN SHEET METAL REPAIR UNTUK GURU BIDANG STUDI PRODUKTIF SMK PENERBANGAN
Keywords:
Competence, Training, Aircraft
Abstract
Kartika Aqasa Bhakti Flight Vocational School is located at Jalan Jembawan Raya No. 20 A Semarang, this Vocational School is the only school in the city of Semarang with a concentration in aviation majors, namely Airframe and Powerplant and Aircraft Electrical. In its development, the school management has always carried out efforts to improve the competence of maintenance teachers in the Airframe Powerplant major through training, visits, and other forms, but other forms of additional programs are still needed. The purpose of this community service activity is to provide training in carrying out repairs to sheet metal under airframe manufacturing standards as well as competence in the field of airframe maintenance required. The implementation of the community service chosen is a form of training, both theory and practice for competency in repairing sheet metal in aircraft. Implementation of online training through zoom and hands-on practice. Implementing sheet metal repair introduction training for teachers, it can increase the competence of teachers who have an undergraduate education background so that it helps in the teaching and learning process at the Kartika Aqasa Bhakti Aviation Vocational School
Kegiatan pelatihan ini dilatarbelakangi oleh masih rendahnya jumlah dan kompetensi guru bidang produktif sekolah menengah kejuruan, khususnya bidang produktif SMK penerbangan. Data pemerintah tahun 2019 memperlihatkan mayoritas postur tenaga pengajarnya masih didominasi oleh kategori bidang normatif adaptif atau guru umum, sedangkan guru produktif yang mengajar materi pelajaran sesuai bidang keahliannya masih rendah, berada pada prosentase di bawah 35 %. SMK Penerbangan Kartika Aqasa Bhakti berlokasi di Jalan Jembawan Raya No. 20 A Semarang,  SMK ini adalah satu- satunya sekolah yang ada di Kota Semarang dengan konsentrasi jurusan bidang penerbangan, yaitu Airframe dan Powerplant serta Kelistrikan Pesawat Udara. Dalam perkembangannya, manajemen sekolah selalu melaksanakan upaya – upaya untuk meningkatkan kompetensi keahlian guru bidang maintenance pada jurusan Airframe Powerplant melalui pelatihan – pelatihan, kunjungan dan bentuk lain tetapi masih diperlukan bentuk program tambahan lain. Kegiatan pengabdian kepada masyarakat dalam bentuk pelatihan ini bertujuan untuk memberikan kompetensi dalam melakukan repair pada sheet metal sesuai dengan standar manufacture airframe. Metode pelaksanaan kegiatan pengabdian masyarakt ini melalui pelahitan on site baik teori maupun praktek hands on. Hasil dari kegiatan pengabdian kepada masyarakat dalam bentuk pelatihan dasar sheet metal repair adalah para guru-guru bidang produuktif memiliki kompetensi dalam melaksanakan sheet metal repair sehingga meningkatkan kualitas pembelajaran siswa bidang airframe.
Downloads
Download data is not yet available.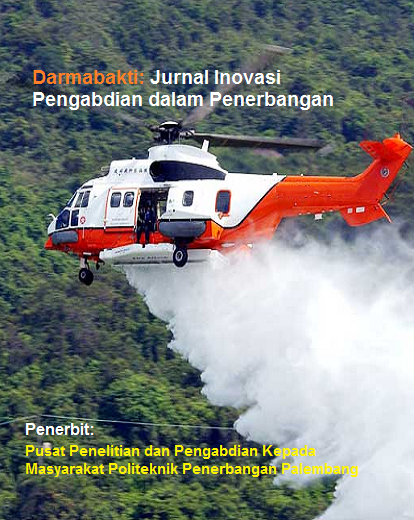 Downloads
How to Cite
Riyanti, L. E., Gauthama, W. ., Mursyidin, M., Arrafat, B. S., & Kurniawan, A. . (2022). PENGENALAN SHEET METAL REPAIR UNTUK GURU BIDANG STUDI PRODUKTIF SMK PENERBANGAN . Darmabakti: Jurnal Inovasi Pengabdian Dalam Penerbangan, 3(1), 41-48. https://doi.org/10.52989/darmabakti.v3i1.67
License
Copyright (c) 2022 Lilies Esthi Riyanti, Wira Gauthama, Mursyidin Mursyidin, Bhima Sakti Arrafat, Andri Kurniawan
This work is licensed under a Creative Commons Attribution-NonCommercial-ShareAlike 4.0 International License.